«
»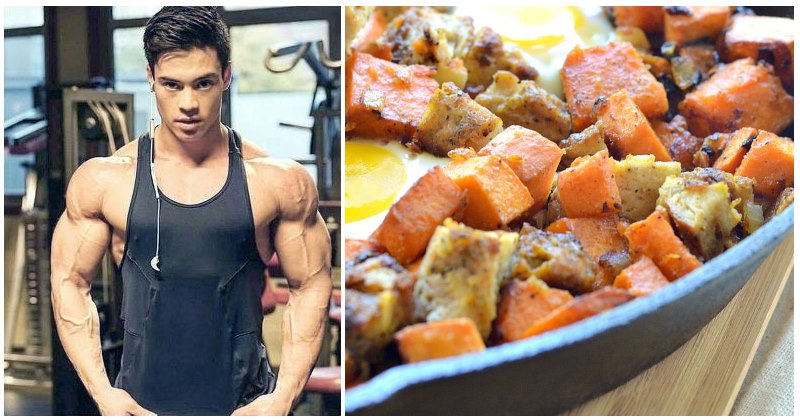 Dialing in the proper post-workout nutrition every single day can be exhausting work but nonetheless, it?s 50% of muscle building and you know it. To accomplish this goal, you don?t need to read every article out there concerning bodybuilding diets, as all of them can be boiled down to one simple rule: if you expect to grow, make sure to replace the amino acids and glycogen that you?ve used up during the workout as soon as possible.

It?s all about getting a quick dose of good quality protein and carbs that will jump start protein synthesis ? unarguably, the most time-efficient way to do that is with a carb-loaded protein shake. The problem is that we humans tend to get a bit too dependable on the easiest option, so after a while, the thought of another round of bland protein shakes and plain chicken becomes unbearable.

On top of that, your body needs a wider variety of foods to replenish the lost nutrients and keep running smoothly. With this common problem in mind, we?ve prepared a list of the best post-workout easy-to-prepare meals that both help build muscle and taste great. Enjoy while you grow!

1. High-Protein Pancakes

Got a sweet tooth? Here?s a guilt-free way to satisfy your cravings while loading up your muscles with their favorite nutrients.

Nutritional Profile: Total calories: 421; Protein: 51 g; Fat: 6 g; Carbs: 40 g

Ingredients:

4 egg whites
? cup rolled oats
? cup cottage cheese
1/8 teaspoon baking powder
? teaspoon vanilla extract
Mix the egg whites, oats, cheese, baking powder and vanilla extract and cook the mixture on a preheated griddle on medium heat until bubbles appear, then flip and cook another 30-60 seconds. Top with a bit of honey and forest fruits or banana slices.

2. Beef and Squash

This simple, mouthwatering meal is a great way to boost your creatine levels and keep you satiated for a long time.

Nutritional Profile: Total calories: 630; Protein: 70 g; Fat: 18 g; Carbs: 40 g

Ingredients:

8 oz lean beef
1 butternut squash
4 oz marinara sauce
Salt and pepper
Cook the beef (seasoned to taste} separately from the squash, which needs around 35 minutes to get soft. Mix them together in a pan and add your favorite marinara sauce. Presto!

3. Tuna Salad With Crackers

This oldie-but-goldie provides just the right mix of protein and carbs and is perfect for those of you who never seem able to find the time for preparing a proper meal before heading to the gym.

Nutritional Profile: Total calories: 380; Protein: 41 g; Fat: 13 g; Carbs: 24 g

Simply add ? cup of crushed up whole grain crackers to a can of yellow fin tuna, then give it some depth by adding a bit of extra virgin olive oil, mustard, pepper, chopped up pickles, onion rings and tomato slices.

4. Protein Powered-Up Oatmeal

Who doesn?t love oats? And the bonus advantage is that there?s nothing easier than upgrading this breakfast classic into a muscle-building powerhouse.

Nutritional Profile: Total calories: 420; Protein: 31 g; Fat: 12.5 g; Carbs: 50 g

Ingredients:

? cup rolled oats
2 scoops of vanilla whey protein powder
? cup dried fruit
? cup slivered almonds
Mix in the oats, protein powder, fruit and almonds, then add ? cup of water or milk and let the whole mixture sit overnight in the fridge. The next day, add some cinnamon and enjoy.

5. Egg and Veggie Scramble

Ideal for anyone who wants to achieve long-lasting satiety with as little calories as possible.

Nutritional Profile: Total calories: 520; Protein: 37 g; Fat: 23 g; Carbs: 30 g

Ingredients:

4 egg yolks
6 egg whites
? cup diced bacon
? cup chopped spinach
? cup chopped onions
? cup mushrooms
? cup bell peppers
Scramble 4 whole eggs and the additional two egg whites, then add the vegetables and mushrooms.

6. Chicken and Sweet Potato Hash

Chicken and sweet potatoes are one of the staple bodybuilding foods that can get a bit boring on their own after a while, so why not try this simple recipe that combines them into a gourmet dish?

Nutritional Profile: Total calories: 300; Protein: 51 g; Fat: 5 g; Carbs: 30 g

Ingredients:

8 oz cooked chicken breast
? cup diced sweet potato
? cup diced apples
Olive oil
Salt and pepper
Cinnamon

Dice up the cooked chicken breast and put it in a heated pan with olive oil. Throw in the diced sweet potato and apples and add salt, pepper and just a pinch of cinnamon.
6 Perfect Post-Workout Meals